The Boundary and You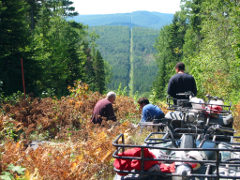 The Boundary and You
For most of us, the border, or boundary, as it should be called, is nothing but an abstract line, sometimes straight, sometimes impossibly jagged, laid out on a road map, a globe or on our GPS navigation devices.
For others, the boundary is a very real part of daily life. It is a granite obelisk that stands out in the middle of a front lawn next to a garden gnome. A 6-metre vista, clear cut through a maple grove. A length of electrician's tape that runs through the middle of a library that straddles the Quebec/Vermont boundary or, a curious landmark between the 18th hole and clubhouse of a golf course on the Prairies. Its monuments can also be seen as lonely sentinels atop some of the continent's highest peaks.
Although the boundary itself exists only in two dimensions, length and height, for reasons of visibility, its demarcation requires that a space of 3 metres or 10 feet be reserved for it on either side of the line.
For those of us who live or work near the boundary between Canada and the United States, the boundary and its monuments have become our backyard neighbours.